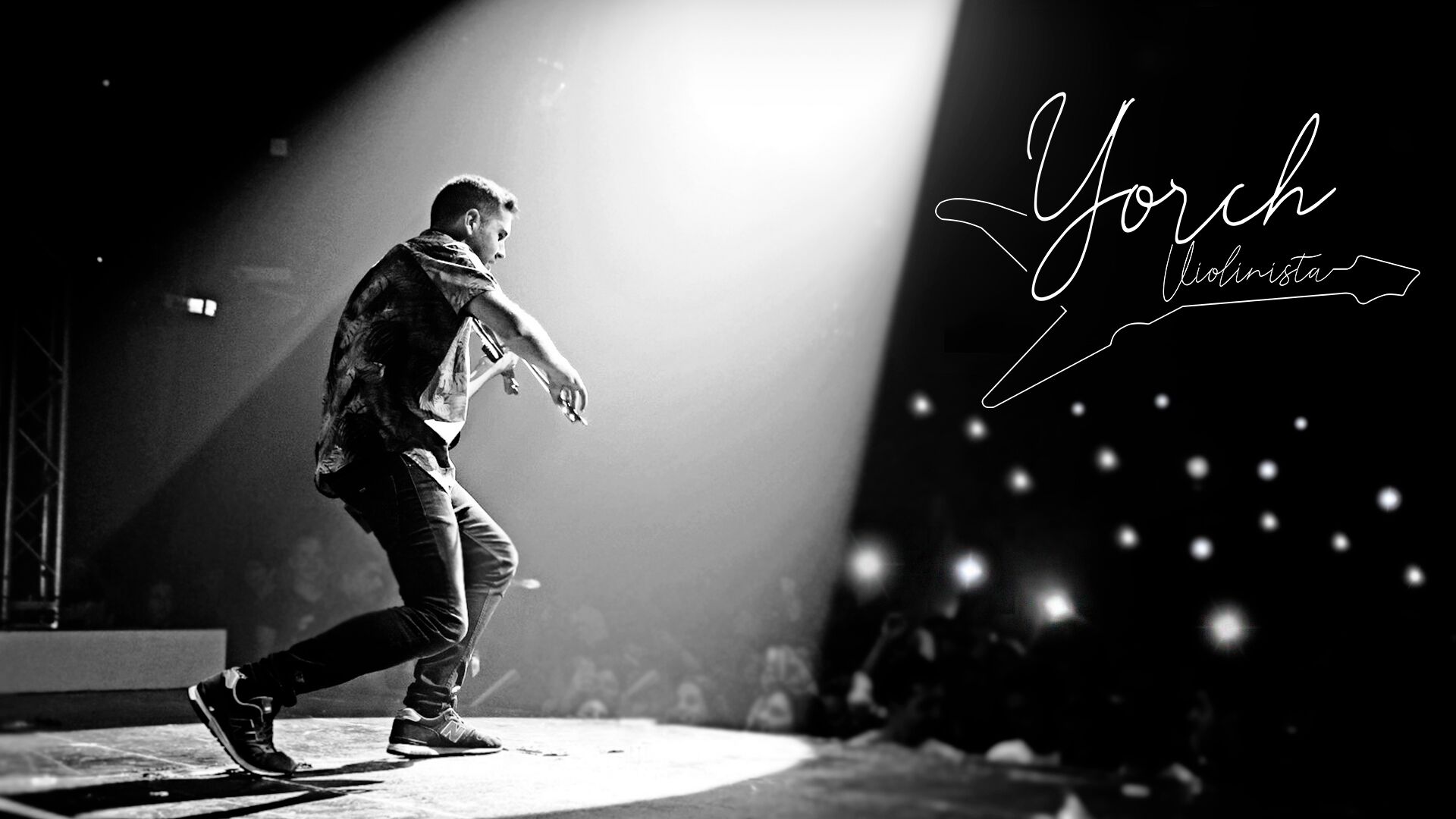 Yorch, a native of Madrid, has grown up in a family surrounded by renowned musicians who has instilled in him, since childhood, the passion that he feels for music today.
From the age of 6 with the violin in hand, Yorch, currently, is one of the leading electronic violinists in the national and international scene.
With more than 20 years of experience, his extensive musical training has made him part of the best classical orchestras, such as the Phylarmonic Orchestra of Spain, and also has made him succeed not only in the world of electronic music at national and international level with his live shows, but also in the pop music sharing stage with famous artists like Laura Pausini, Alejandro Sanz, Ara Malikian, and also acting in TV programs like "Que Tiempo Tan Feliz", "Got Talent España" or "Radio Nacional de España".
As an electronic violinist he has collaborated for many brands such as BMW, Tag Heuer, Rolex, Coca-Cola, Schweppes, G Vine, Bulldog, Grand Marnier, Cutty Sark, Ragnarok, Fanta, Super Series and since 2014 he is the official electronic violinist of the Brugal brand.
He is also known for his covers on the internet and social networks, with more than 1 million and a half visits to his videos this year. Since he began his musical career until today, he has gathered more than 300 shows in Spanish clubs and discos, more than 100 corporate events and more than 100 weddings.
Some of the clubs where he has played are: Resident electronic violinist at Cova D'en Xoroi (Menorca), Kapital Theatre, Barcelo Theatre, Black Haus, Fortuny, Jardín de la Máquina, Urban Hotel, Ifema (Madrid),Pacha, Opium, Danzatoria, Otto Zutz (en Barcelona). Olivia Valere, Buddah en Marbella. Sojo Ribera (Córdoba). Bilindo, Teatre (en Sevilla) Sala Pelícano (en La Coruña). Luminata (en Murcia). Privilege, Elements Club (en Ibiza) y otras salas en Valencia, Valladolid, Alicante, Castellón, Cantabria, Asturias, Cáceres, Toledo, Malaga, etc.
His musical experience as well as his skills on stage, make that his performances are full of energy, precision and musical quality, enriching the songs that until now were simply played by a DJ.
Yorch owns a unique electric violin in the world, designed by the prestigious artist Annie Haslam exclusively for him.
<iframe width="560" height="315" src="https://www.youtube.com/embed/jqmsaTkb1W8?rel=0&showinfo=0" frameborder="0" allow="autoplay; encrypted-media" allowfullscreen></iframe>
<iframe width="560" height="315" src="https://www.youtube.com/embed/Jzou5yc0C7k?rel=0&showinfo=0" frameborder="0" allow="autoplay; encrypted-media" allowfullscreen></iframe>
<iframe width="560" height="315" src="https://www.youtube.com/embed/ShhGiRzzIqg?rel=0&showinfo=0" frameborder="0" allow="autoplay; encrypted-media" allowfullscreen></iframe>
<iframe width="560" height="315" src="https://www.youtube.com/embed/wGUC8-OtmjA?rel=0&showinfo=0&start=12" frameborder="0" allow="autoplay; encrypted-media" allowfullscreen></iframe>
<iframe width="560" height="315" src="https://www.youtube.com/embed/95RJYsjVtOg?rel=0&showinfo=0" frameborder="0" allow="autoplay; encrypted-media" allowfullscreen></iframe>
<iframe width="560" height="315" src="https://www.youtube.com/embed/hKBBjSvOBWM?rel=0&showinfo=0" frameborder="0" allow="autoplay; encrypted-media" allowfullscreen></iframe>
<iframe width="560" height="315" src="https://www.youtube.com/embed/-awuiawG-uw?rel=0&showinfo=0" frameborder="0" allow="autoplay; encrypted-media" allowfullscreen></iframe>
<iframe width="560" height="315" src="https://www.youtube.com/embed/95LjhbiwlMg?rel=0&showinfo=0" frameborder="0" allow="autoplay; encrypted-media" allowfullscreen></iframe>
<iframe width="560" height="315" src="https://www.youtube.com/embed/toGNfBTsIEc?rel=0&showinfo=0" frameborder="0" allow="autoplay; encrypted-media" allowfullscreen></iframe>